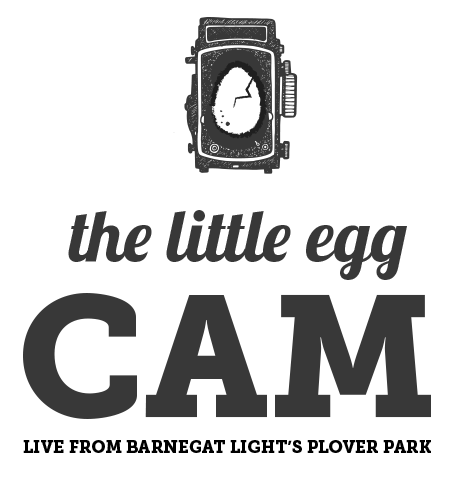 Barnegat Light NJ
Last Updated 6/12 @ 04:42PM
NestStory Notes:
04:42PM: And that's it! The brood is off. Jimin and Maya are slowly moving the babies to safer ground away from the nest. They are returning to the nest every once and a while and checking on the egg but no longer incubating. This nest fate is considered "Hatched."
Thanks for watching, and remember to share the beach! These precious birds will be struggling to survive in Barnegat Light for the next month and it won't be easy. Give them space, respect all fencing, and obey the dog laws (no dogs on beach in the summer)
You can follow along with the progress of this brood over at Readings From The Northside.
And stay tuned for more episodes of the Little Egg Cam later this month.
08:37PM: A quick evening update. I have just returned from the nest where I took the dusk shift protecting the nest from crows. The third egg is still not starring; not a great sign that it will hatch; but anything is possible and some eggs just hatch late, plus this clutch has an unusual history so is less predictable due to the eggs having been buried once.
Overall it is a very calm scene at the nest. The two chicks are extremely well behaved, they listen well, but perhaps most importantly, it's cold so they want to stay near the adults for warmth.
At this point we should expect they will stay overnight at the nest and continue to incubate the third egg. Fingers crossed
This extends the hatch so we will be conserving power and money and not running the cam until morning (unless of course an accessory cam alerts unusual activity!)
This plover family is very sweet and are a real pride of Barnegat Light. Thanks for following along and special thanks to everyone who sat in the cold wind and rain today to keep this family safe.
Check back in the morning for more updates.
04:38PM: The second chick is now drying off and beginning to look like a proper piping plover. Its spirit is showing too. If it wants to poke its little head out of the nest, it is going to; regardless of what dad Jimin seems to want.
03:50PM: More cuteness. The two siblings are alone in the nest bowl while Maya deals with some disturbance. You can really see the age difference of 8 hours. The oldest pokes the newly hatched chick in the face and then proceeds to climb all over to get mom's best warmth when she returns. Since piping plover feed themselves, they don't battle for food... they battle for warmth!
03:23PM: Go Jimin & Maya! Notice the NestStory counts have changed because a second egg has just hatched! We see the oldest chick already able to run and go rogue while its newly hatched sibling squiggles around in the nest bowl. Hopefully the rain will keep the oldest chick from wandering too far, and keep it running back to the nest to keep warm. It is never ideal when one chick is wandering off while the adult is tied down at the nest.
This is thrilling and encouraging. Let's go for three!
02:04PM: More cuteness. Jimin has the nest. The chick is wandering farther and comes in from outside the field of view as the rain starts. Still stumbling, bumbling, and falling all around, but getting noticeably stronger!
The two remaining eggs still appear to be unhatched. The fate of these eggs is especially uncertain since they were buried and unburied during the recent nor'easter.
12:21PM: Maximum cuteness. Jimin has finally come home and met his new chick. The chick is getting stronger already and is able to stumble around the nest a bit, stretching its tiny legs (and wings!) Even though Jimin tries to stuff it back under, the chick only does so when it is ready to get warm!
10:38AM: It's a quiet, peaceful hatch. I'm not complaining, especially after the nor'easter hatches. We've even seen Maya sleeping. Anxiously awaiting Jimin. Reviewing photos, it appears he has yet to meet his first chick.
09:32AM: The first chick is nice and dry now and is taking its first real peak outside the nest bowl before rolling back under Maya to get warm again. Very soon it will start stumbling around and pecking for food. Can't wait to see Jimin come home! Hopefully he gets rid of that pesky eggshell.
08:13AM: Maya is still in charge and looks like only one egg has hatched so far. It was not clear this nest would hatch at all because it had been abandoned and the eggs buried during the nor'easter last week. So even one chick will be a huge victory here. (Here is a story on Readings From The Northside about digging out this nest.)
There is a funny moment here where the chick is stumbling around and gets it head stuck in 1/2 an eggshell!
08:13AM: Maya still has the nest. It is raining now. This cold rain is not ideal for a hatch, but they are safe (meaning, this is nothing like that nor'easter!) Maya is spread out well and staying low to keep the tiny chick warm and dry. We also see her watching carefully for avian predators and ducking very low to further camouflage herself. A positive to the rain is that it will keep dogs off the beach. Illegal dog walking for the piping plovers is a major problem at Barnegat Light.
07:35AM: Maya is incubating and getting called off the nest frequently by disturbances. We can see the first little doodle is out of the egg. It is trying to brood under her wing, but the eggshell keeps being an annoyance. If we are lucky we will see Maya remove that eggshell.
07:00AM: Hatch has begun! Hatch started within the last hour and you can see the first chick trying to squirm out of the egg. You can hear Maya & Jimin alarming furiously outside the nest. Most likely crows, or someone walking their dog on the beach.
Jimin (Male)
Maya (Female)
About The Little Egg Cam.
The Little Egg Foundation is currently running a number of remote cameras at active coastal nests to be used in conjunction with our NestStory software. Our NestStory data system is used by biologists and wildlife managers to collect, organize, store, and process data related to nesting birds.
We are really excited about the potential of using high tech camera traps, remote controlled cameras, image recognition, and machine learning to collect and analyze data at nests. Not only do the systems we are developing allow biologists to see and record more than they ever dreamed possible, but they can do it with zero disturbance to the animals. It's a win/win for everyone so is something we are very passionate about!
We are currently running real-time camera trap alerts at piping plover nests, both to record and better understand how predators interact with the nests and to be able to respond in real time to nests in danger. We are also running live video feeds during the hatch phase of each of these nests when the risks of predation are the highest.
It suddenly occurred to us and our friends at New Jersey Fish & Wildlife's Endangered and Nongame Species Program that this is a great opportunity to share and allow everyone to get an up-close and intimate look at these tiny, precious creatures in the most delicate part of their life-cycle. While the Little Egg Cam is not a web-cam proper (there is no power or internet out on the wild beach, and the equipment needs to be small enough not to disturb the animals), we plan to connect the live feed throughout the day periodically while we monitor the hatches, directly here on the web site.
So now you can follow along each day as our three nests in Plover Park are all hatching, essentially, live!
Be An Armchair Biologist, Field Monitor, and Data Scientist.
The single most important metric in the recovery of endangered species is productivity. How many offspring are the animals producing? Is it that number big enough to grow the population? If so, how can we build on that? If not, how can we help reverse the decline?
To understand the seasonal productivity, we must understand the unique fates of each of the animal families. In NestStory, we break this down into the nest fate and the brood fate.
Determining the nest fate is knowing what happened to the clutch of eggs laid by the adults. Did they hatch? How many hatched? Were there any problems?
Knowing the brood fate involves determining what happened to the hatched chicks. Did they survive to fledge? If not, what was the cause of the loss? If so, were they seen again? What happened to them?
Watching along with the Little Egg Cam, you can join us as we determine the nest fates of three piping plover families as they hatch their nests. Below the video feed, we have included the three most important metrics from NestStory: the status, the egg count, and the chick count. Follow along as those eggs (hopefully!) turn into chicks, and the nest status progresses from Incubating (tending the full clutch of eggs), Hatching (the intermediate period where the eggs each individually hatch), and finally, Brooding (the next phase of their life cycle where they have finished with the clutch of eggs and are now tending the chicks.)
Share the Joy, Share the Love!
We hope you enjoy this intimate glimpse into the lives of these precious, endangered piping plovers as they struggle to survive on the busy beaches of New Jersey. Please consider supporting them by supporting the work of the Little Egg Foundation. Any donation, no matter how big or small, directly enables projects like this one to go from dreams to reality. Most importantly, your donation helps to fund our NestStory software which is now being used by organizations from Maine to South Carolina to monitor to track the productivity of almost half of the entire breeding population of endangered piping plovers.
Donate Now
The Little Egg Foundation, Inc is a 501(c) public charity. All donations are fully tax deductible.